The Graduate Athens Hotel and The Foundry combine to make a venue providing hotel rooms, a restaurant, a pool, a spa, a coffee shop and multiple event rooms. This is an area fit for a perfect wedding weekend in Athens!
(Photo from elizabethannedesigns.com)
#1 Convenient Location
The Graduate Athens and The Foundry are located minutes from downtown. The venue provides complimentary shuttles but walking is easy too. Guests can explore the restaurants, shops and culture of Athens while not being far from their rooms or the wedding activities.
#2 Food + Drink
Ironworks Coffee is conveniently located adjacent to Graduate Athens' lobby. This coffee shop is open early for a quick start to the day and continues serving drinks and snacks until 9pm.
The Foundry Bar & Mill is steps from the hotel rooms and includes a full-service bar and restaurant seating. The menu is available online where unique takes on classic southern traditions such as the Pimento Cheese Fritters Starter or the Shrimp and Grits Entrée are found. Guests can quickly grab a drink or a bite to eat on their way to the wedding weekend events.
(Photo from visitathensga.com)
#3 Beautiful Hotel Rooms
The Graduate recently updated and refurbished their rooms so that Athens' rich history mixes with modern style. The rooms are spacious and multiple sizes are available.
The three Hoy House room options are well suited for large groups, such as a bridal party and wedding guests.. There is a Hoyt House classic, deluxe suite and grand suite designed to entertain parties. These sizes are all available at http://graduateathens.com/rooms/.
(Photo from graduateathens.com)
#4 Spa
The Spa at Graduate Athens is the best place to relax from 9am to 7pm. Guests can feel their best for the wedding by getting a massage, exfoliation, facial or even having heir makeup done. Bridal parties are encouraged to come in for makeup application and services at the spa.
#5 Outdoor and Indoor Space
Immediately next to The Foundry Bar + Mill is a music venue referred to as The Foundry. It includes a lower level with an open dance floor, a stage for live music and tables with chairs along the outskirts. The upper level has room for high-top tables and provides theater seating. This space is  a fun place to have the wedding after-party.
The Foundry Ballroom or either of the two Gallerias are beautiful, spacious areas that are available for events. There is plenty of room for tables and chairs to be set up as necessary. Either of these could be used for the rehearsal dinner or the wedding itself.
If opting for an outside venue. The Pavilion is a wonderful option. The outdoor space has a high ceiling with fans and wooden beams and is still open on both sides. If you are looking to host your wedding outside, look no further!
The Foundry and Graduate Athens lacks neither space nor beauty and truly provides an ideal layout for a perfect wedding weekend.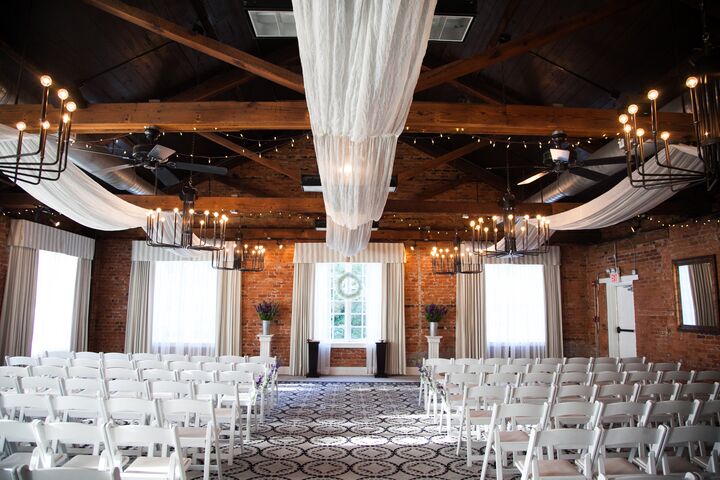 (Photo from theknot.com)
Our purpose at Weddings in Athens is to show the outstanding selection of Athens, Georgia wedding vendors such as wedding photographers, videographers, florists, wedding planners and venues. We hope that our information will be helpful to you as your plan your Athens, Georgia wedding.  Please contact Weddings in Athens if you would like to have your listing added. Please follow us on Facebook at www.facebook.com/weddingsinathens.  
(Visited 740 times, 1 visits today)