Ten "DIY's" For Your Wedding in Athens
 We all appreciate saving money but we especially appreciate it when it comes to weddings. Check out the following wedding do-it-yourself's that will help you save money while still having a good time!
Photo from Blane Marable
Chalkboard Program
Rather than buying loads of paper programs, get one or two chalkboards to write out the order of events for the day. You could place it on an easel, use a beautiful chair or set it against a tree!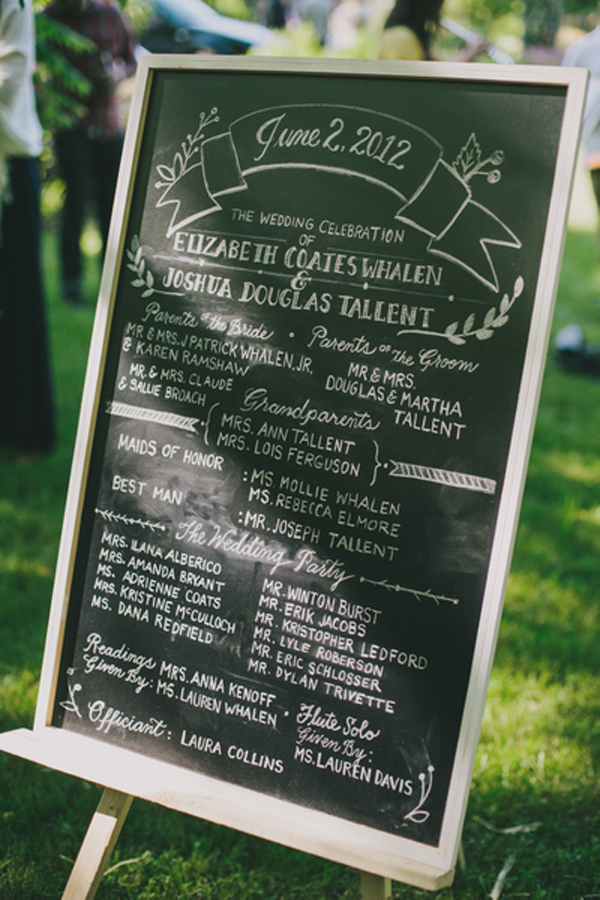 Photo from Angela Cox 
Place Cards
Instead of hiring a calligrapher to create your place cards, buy the style you want and then write the people's names on them yourself– creating a personal, little gift to each guest.
Photograph Display
To showcase pictures of you and your spouse, put up twine between two tacks on the wall, two beams or along tree branches. Then hang the pictures from the twine with wooden clothespins. This will create a beautiful display where your guests can see the journey of your relationship.
Photo from Melchucki
Stationary
If you feel confident enough to create your own from the templates available online then homemade save the dates and invitations will feel personal and show your creativity! Multiple photo websites such as Shutterfly allows you to easily print these at your local drugstore.
Centerpieces
By using candles, vases, flowers and greenery you can easily create a personal centerpiece. Use height, color and Pinterest to make a simple or ornate centerpiece for each table.
Photo from Alisha Vidal
Candles
Whether you line the aisle with candles, use them as a centerpiece or have them surrounding an outdoor event, candles are a beautiful asset to any wedding. Use Paper Mache, watercolors or stamps to decorate the outside of candles and votives. Another idea is putting shells, rocks or petals in the vases surrounding the bottom of the candle. You could even make the candles yourself!
Photo from Flicker
Flower Displays
Instead of hiring a florist or finding a flower guru – you can create your perfect wedding day bouquets, displays and centerpieces through flowers. By buying flowers and using vases, ribbons or floral displays, you can arrange the flowers and pick the colors that you want for your special day.
Photo Booth
As a guest book alternative or just for a fun activity create a Polaroid photo booth! Set up a corner of the room with linens, great lighting and a table with a Polaroid and props. The guests can then hang up the pictures on a wall display or in a photo book provided by you.
Photo from Mia
Table Markers
By finding reasonably priced picture frames and using cork or chalkboard paint in the frame, you can display table numbers. This creates an easy and creative way to get the guests to their tables.
Photo from Dottie Zimmerman
Lighting
If you're trying to create lighting, as it grows dark, use lanterns hung above the area. You could also hang little fairy lights, ribbons with light bulbs or line the area with candles. This can all be done before the weekend begins!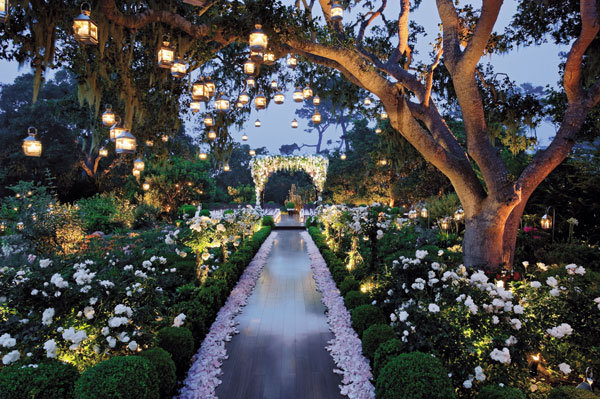 Photo from John Labbe
Our purpose at Weddings in Athens is to show the outstanding selection of Athens, Georgia wedding vendors such as wedding photographers, videographers, florists, wedding planners and venues. We hope that our information will be helpful to you as your plan your Athens, Georgia wedding. Please contact Weddings in Athens if you would like to have your listing added. Please follow us on Facebook at www.facebook.com/weddingsinathens.
(Visited 130 times, 1 visits today)