Photo Credit: Blane Marable Photography 
A guest book can be one of the most precious keepsakes from a wedding. Having a hand-written record of every loved one who shared in your special day is absolutely priceless, but why limit yourself to a standard book of signatures? Although a simple book is a classic option, there are so many creative alternatives to give your wedding a special flair and make a lasting impression on each and every guest.
Make Your Guest Book Interactive 
Put an Item on Our Bucket List: Let each one of your guests write down an activity or experience that they think you should have as a couple, along with their names. Compile all of their suggestions together in a cute wooden box, and you have a bucket list to complete over the course of your new life together.
Photo Credit: Wedding Chicks
Suggest-A-Date: Ask each of your guests to suggest an idea for date night along with their signatures. You are sure to never run out of activities!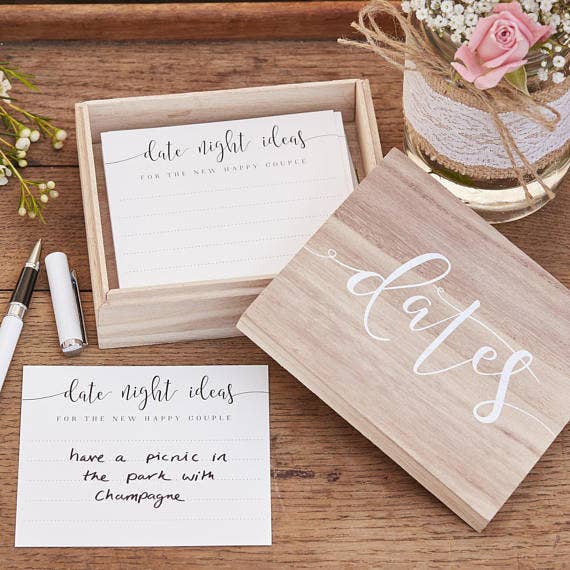 Photo Credit: Joessa via Etsy
Wedding Questionnaire: Have your friends and family fill out a small card of fun relationship questions.
"What should we name our first dog together?"
"Will our first baby be a boy or a girl?"
"Who wears the pants in our relationship?"
Photo Credit: Style Me Pretty
Make Your Guest Book A Part of Your Home 
Engagement Photo Guest Book: Blow up your favorite engagement photo or print all of them into a keepsake book to have in your home together. Every time you look at your photo hanging on the wall or flip through your engagement book, you will remember your perfect wedding day.
Photo Credit: Style Me Pretty
Drop Box Guest Book: Ask your friends and family to sign their names on an item of your choosing – from wood-carved hearts, to decorative stones, to simple pieces of patterned paper. Fill a glass jar or shadow box with these keepsakes and display them in your home as a daily reminder of your special day and everyone who shared it with you.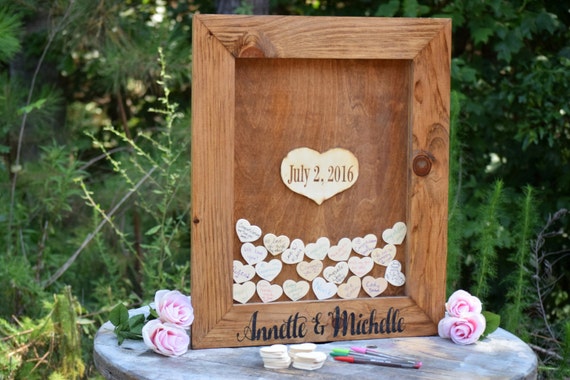 Photo Credit: CountryBarnBabe via Etsy
Furniture Guest Book: Use a wooden bench as a canvas for your signatures. This piece will look amazing in your home or as outdoor furniture in your backyard!
Photo Credit: Blane Marable Photography 
Make Your Guest Book Something to Use for Years to Come 
Bible Guest Book: Lay out your first family Bible that you and your spouse intend to use for years to come, perhaps with your new last name monogrammed onto the cover. Ask your guests to highlight their favorite verse(s) and sign their name next to it/them. This is a keepsake you can look through together and cherish forever.
Photo Credit: Wedding Chicks
There are without a doubt countless options when it comes to picking a guest book for your big day; however, choosing the keepsake that is special and unique to both of you is what's most important, so choose what will make you look back on your wedding day fifty years later and still make you just as happy as you were on that day.
Our purpose at Weddings in Athens is to show the outstanding selection of Athens, Georgia wedding vendors such as wedding photographers, videographers, florists, wedding planners and venues. We hope that our information will be helpful to you as your plan your Athens, Georgia wedding.  Please contact Weddings in Athens if you would like to have your listing added. Please follow us on Facebook at www.facebook.com/weddingsinathens.
(Visited 56 times, 1 visits today)